FLORAL PRINT FABRICS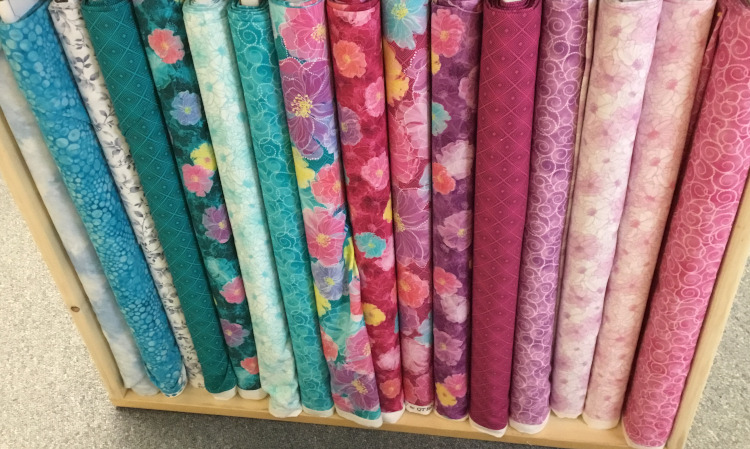 Shelf 1: First three are misc brands, remaining fabrics are Quilting Treasures, Rachel line.



Moda French General, Le Beau Papillion, $12.00 yard.



Other French General Fabrics from Moda.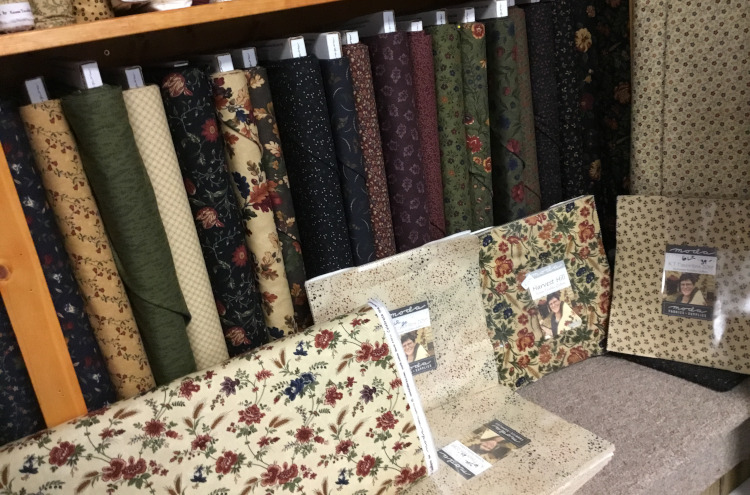 Kansas Troubles by Moda.



Harvest Gold by Benartex, $12.00 per yard. Kits available for the pattern, Home for the Harvest, 62 inches square, $85.00.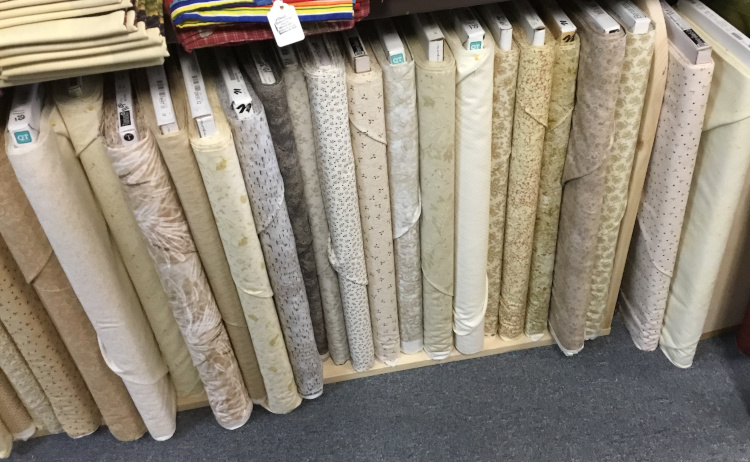 Cream blenders fabrics.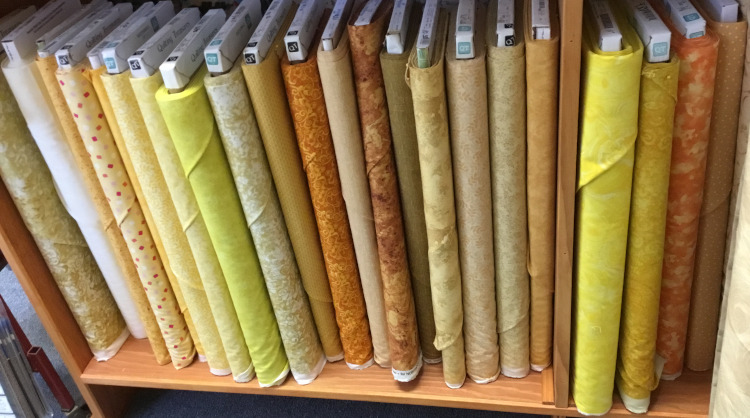 Yellow tone blenders, brand and prices vary.




Henry Glass, Clothworks, Wilmington Prints, Moda fabrics.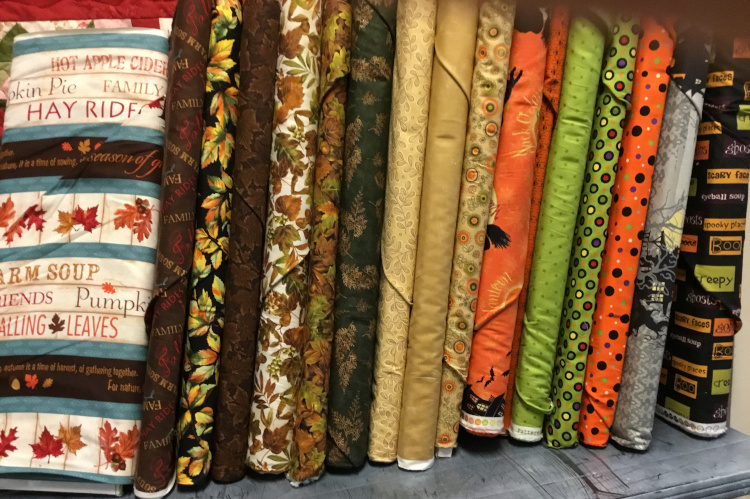 From left: First two are Wilmington Prints, next one is Blank, then Kona Bay, two Northcott, rest are Moda, prices vary.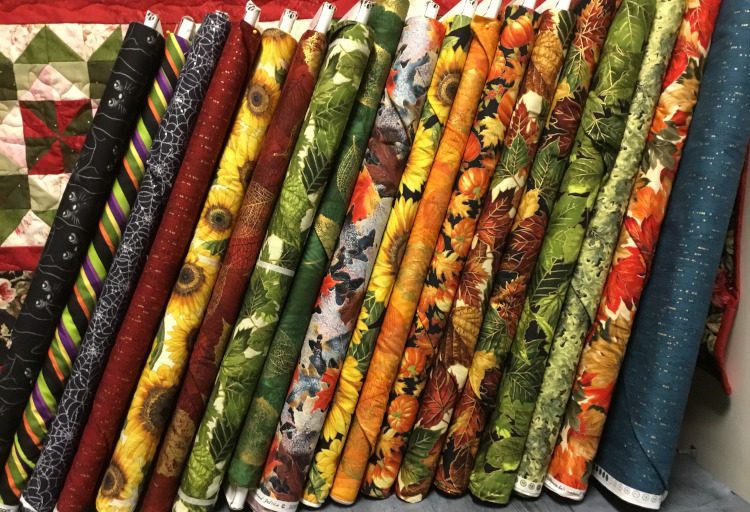 Hoffman Fall & Halloween prints, prices vary.



Some nice blenders from P & B Textiles, $11.20 a yard.



Taller bolts are 108 wides, prices and brands vary.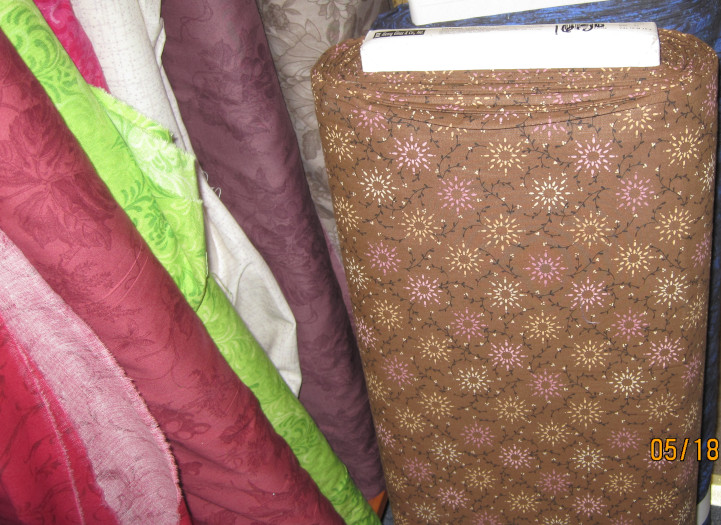 Wide fabric for quilt backing.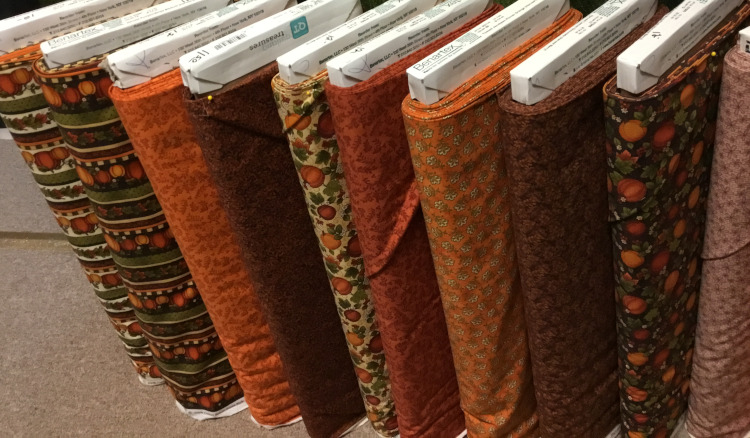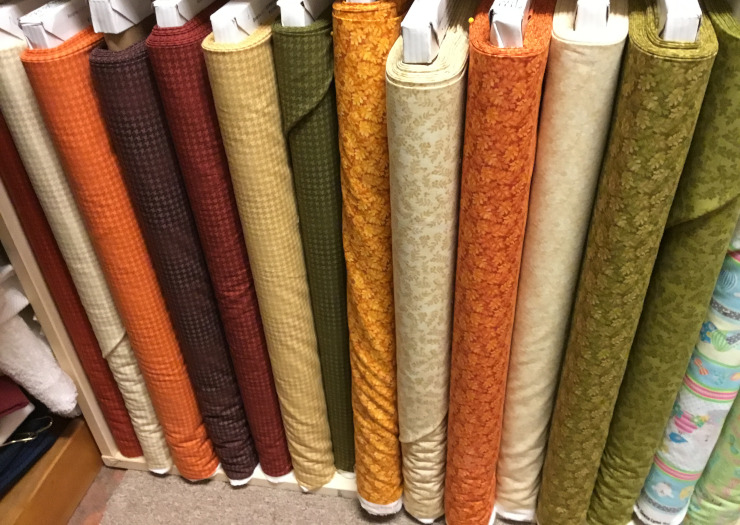 Harvest Berry fabrics by Benartex, $12.00 a yard, also available as a precut 5 inch square assortment.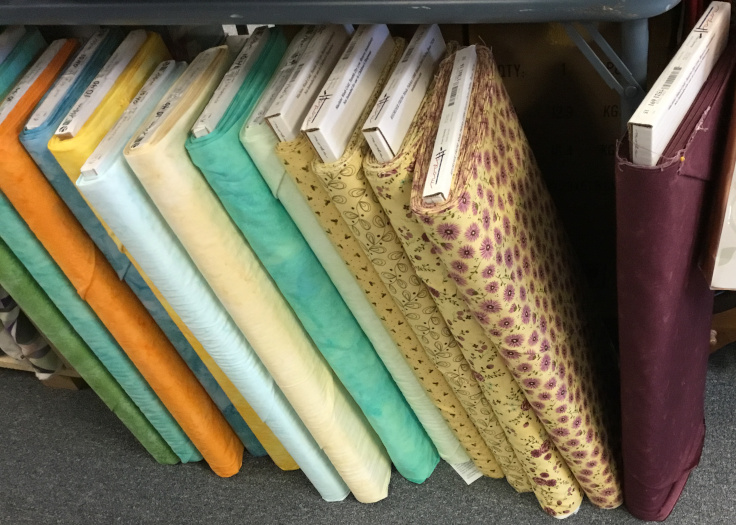 End 5 on the right are Moda's Prints Charming, $11.00 a yard.



Stiletto by basic Grey, Moda fabrics, Layer cake $39.00, fabrics $12.00 a yard.



Memoirs by Moda, layer cake $39.00, fabrics $12.00 a yard.



The 3 fabrics on the right are part of Northcott Facets line, the 3 kits in the second photo use that line. Diadem kit is $125.00, size is 100 x 100 inch; Trove kit is $95.00, size is 67 x 67 inch; Treasure chest kit is $110.00, size is 69 x 87 inch. The rest of the bolts are Kansas' Dragonfly Dance, $11.00 a yard.



Autumn Leaves, by Benartex, $11.40 a yard.



Slumber Bears pattern, fabric is Northcott Day Dreams, $13.00 a yard..



Cat-I-Tude 1 and II panels and matching fabrics. Panels are $12.60; fabrics $11.40, Ann Lauer of Grizzley Gulch Gallery, for Benartex.



Moda, sweet violet line, $12.00 a yard. Layer cake and Little House Kit are available.



Quilting Treasures. From right to left, 4 bolts Kashmir, 4 bolts violet, lavender with writing - circle of friends.



Fat Quarter Bundles, 25 pieces, Kashmir by Quilting Treasures, $120.00 per bundle.



Kashmir, rolls are (12) 2 1/2 inch strips, $15.00 each, fat quarter bundle, 25 pieces for $120.00.



Quilting Treasures, fat quarter bundles. 24 fat quarters, Bliss line, $76.00.



Benartex fat quarters, $3.25 each.



Hoffman Dream Big Dahlias panels, 45 x 45 inch, digitally printed, $16.75 per panel. We have others available. These are some of the newest ones from Hoffman.



Patterns to go with Hoffman's Dream Big panels.



Moda charm packs, 5 inch squares - these genuine Moda items we can call charm packs. $10.00 for a pack of (42) 5 inch squares.



Other cuddle fabrics.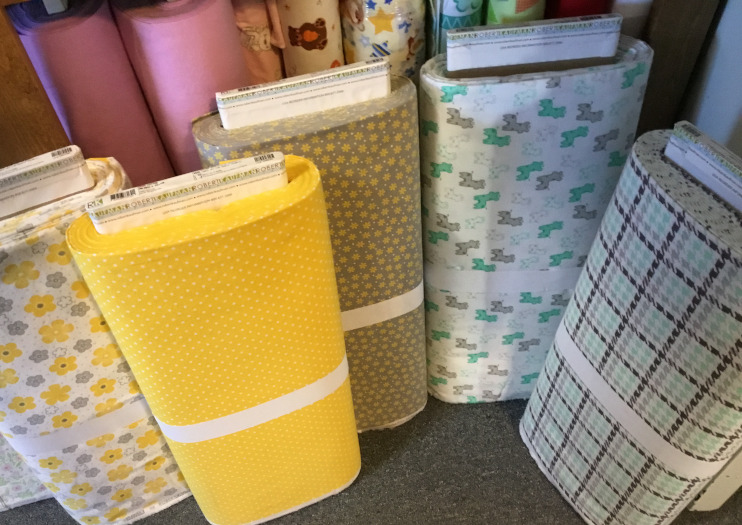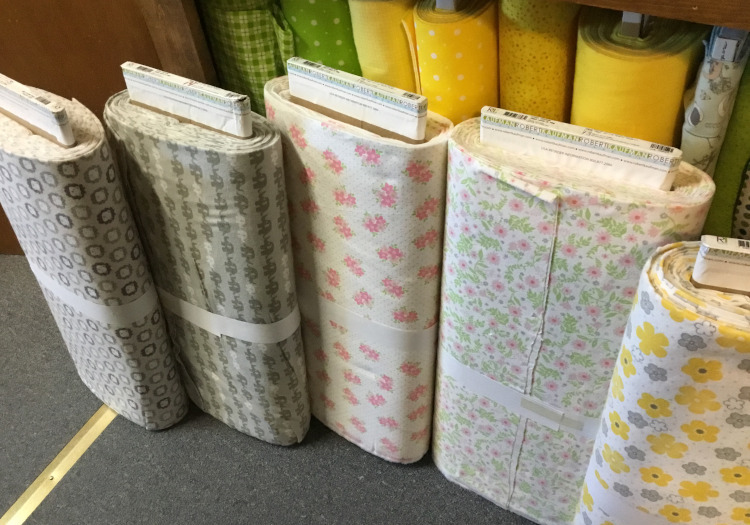 New kids flannels from Robert Kaufman, $9.50 a yard.


Catalog department list

06/14/2020: Even though appointments to visit the physical store are no longer required, a phone call would be appreciated. For a personal store visit, masks are still required. If you do not have one, we do have some available for sale, as well as disposable ones that are free. Either gloves or hand sanitizing is required upon entering the store. Social distancing is required also. A good way to remember 6 feet - is that it is equal to two yards of fabric.
Under no circumstances, if you have a fever, shortness of breath, have been exposed to COVID-19, or are showing any signs of illness, please don't come to the store. This is for the safety of other customers, as well as my staff and our families.

We are in the process of getting our fabrics on line so that you can conveniently shop "virtually". This website is the place to come, to see our beautiful fabric inventory. Posting all our fabrics will take us a bit of time, as we only have a "tiny" amount (ha ha, about 5,000 bolts.)

I will be here at the store, most days, from 10am to 4pm, so I invite you to call in an order or make an appointment to visit. We will continue to have the AccuQuilt GO! Cutters in stock, as well as the new dies coming out. We will be glad to ship, or arrange for pick-ups at the store. We will also continue to run our usual fabric specials and will provide free shipping for orders over $100.00. I hope you will continue to let us fill your fabric needs.

Please be patient, while we undertake the major task of getting the fabric on line. Expect new posts every few days for a while!

Please call for personal assistance with your questions and order.

Please call Diana's Quilts-n-Things at 406-632-4861 to order your fabric.